Is this you, mommy? You want to homeschool, BUT:
You feel inadequate or unqualified to teach
You're scared that your child might not learn enough, or that you might ruin his or her future
You doubt whether you can actually make this "homeschool thing" work
OR You're already homeschooling, BUT:
You still don't feel confident and find yourself asking, "Am I really homeschooling?"
You doubt whether you're doing it "correctly"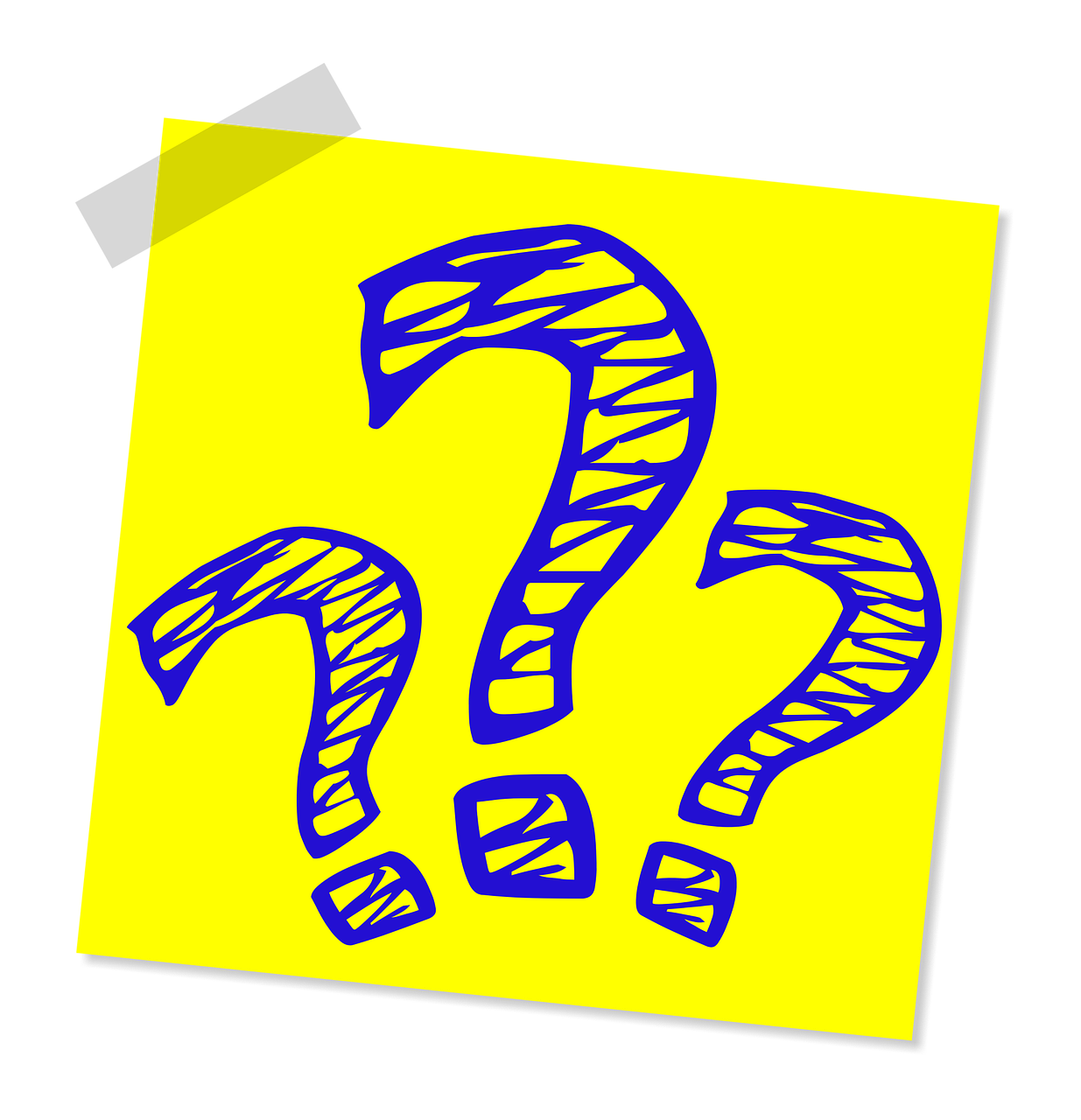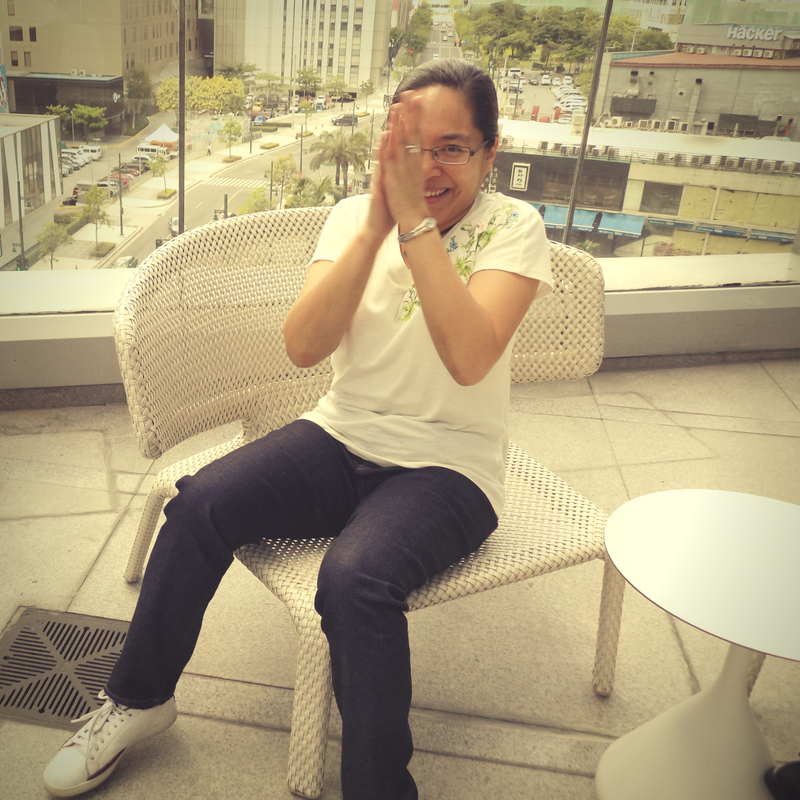 Yes, I get it. I've encountered several mommies who feel the exact same way. And guess what? I've experienced that, too. Turns out it's normal. These feelings usually come from a place of uncertainty, because most likely, we were not homeschooled ourselves. That's when all the doubts and what-ifs begin to surface. We want some proof, something tangible to hold on to.
But as one who has been homeschooling my son for over 10 years, I've learned that you can grow into a more confident and courageous homeschooler—as you take one step after another, and of course, by God's grace! And that's why I'm here—to guide, coach, and support you in this season of your homeschool journey through The Courageous Homeschooler Group Coaching Program.
It's time for you to courageously step into your calling as a homeschooling mom.
The Courageous Homeschooler is a 4-week group coaching program that will help you get past self-doubt, fear, and worry to gain confidence as you educate your child.
By the end of this program, you'll:
Understand why you've been feeling fear & self-doubt, and be able to break through it

Gain more clarity on why you have what it takes to homeschool

Be more confident in your calling as a homeschooler

Learn the simple steps to start homeschooling (if you haven't started yet)

Discover foundational pieces that might be missing in your homeschool (if you've already started)

Enjoy homeschooling on a deeper level (read: strengthened bond with your child, among other things) 
I tapped into Mich Nicolas as a mentor for 1 month. I realised all I needed was a lot of encouragement because I was just filled with anxiety. After our online sessions which involved a lot of prayer, I know that it's His grace that gave me a change of heart and mind. — Feliz Lucas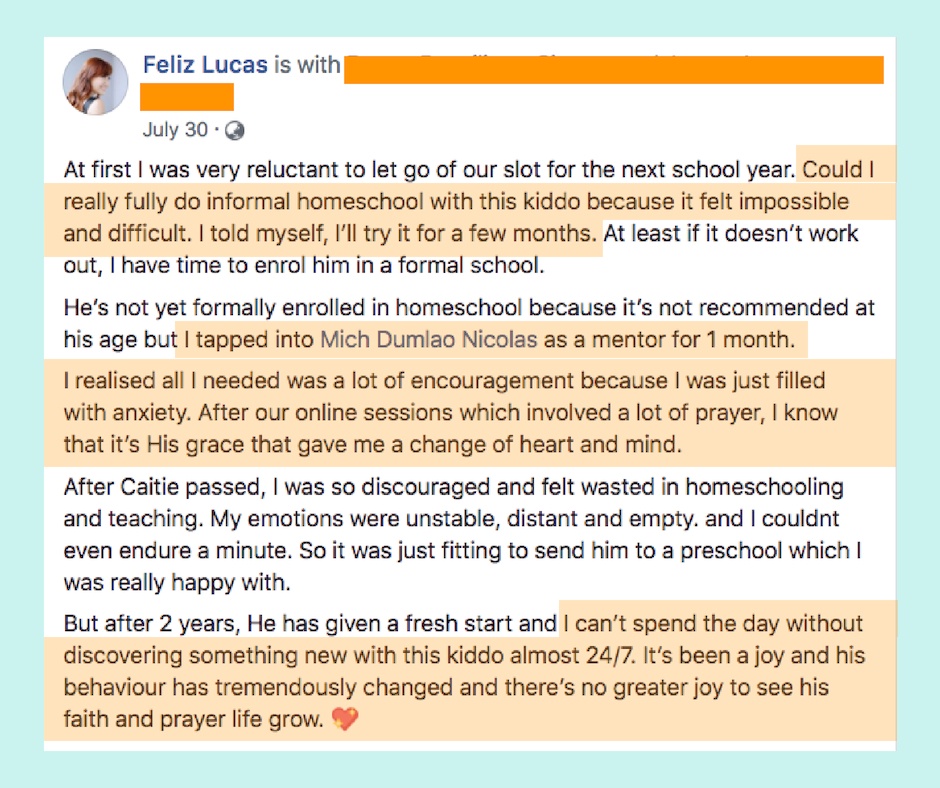 This is the first run of The Courageous Homeschooler group coaching program. It is currently in beta mode.
This first batch will be composed of 15 Founding Members.
Might you be one of them? 🙂
This program is for moms who want to start homeschooling,
and need support in pushing past their apprehensions about homeschooling. 
This is also for moms who have already been homeschooling,
and want to grow into becoming more confident educators of their children.
General Schedule:
Live Call 1: November 15, Thursday, 8 PM
Live Call 2: November 22, Thursday, 8 PM
Live Call 3: November 29, Thursday, 8 PM
Live Call 4: December 6, Thursday, 8 PM
(Note: schedule may be subject to change—with prior notice, of course.) Weekly Topics:
Week 1: Fear & Self-doubt: Why the Struggle Is Real
Week 2: The Face of Courage
Week 3: The Inner Wiring Approach
Week 4: Step Into Your Calling
Here's how the program will run:
All members will be added to a private Facebook group.
Each week, I'll be giving a live online training with the members.
We will also have roundtable discussions where you can bring up your questions and concerns.
After the training, there will be activities within the group for members to apply what they've learned.
Members may also post their progress in the group, and encourage each other throughout this process.
Founding Member's Investment: Php 2,000
EXTENDED! Deadline of Payment is now on November 14, 2018 >> 11:59 PM (Philippine Time)
WHAT YOU GET:
• 4 Live training calls (with access to recordings) • Roundtable discussions • Personalized coaching • Guides & Worksheets • Community FOR PAYMENTS VIA BANK DEPOSIT, please email hello@citygirlcountryhome.com with the following:
Subject line: BANK DEPOSIT
I will email you back the bank details and next steps.
* Please take note that there will be no refunds.
FOR INQUIRIES: send an email to hello@citygirlcountryhome.com
BONUS!
As a member, you will receive for FREE the "Start Homeschooling with Joy & Confidence" digital package which includes videos, audio recordings, PDF handbook and workbook (valued at P1,500)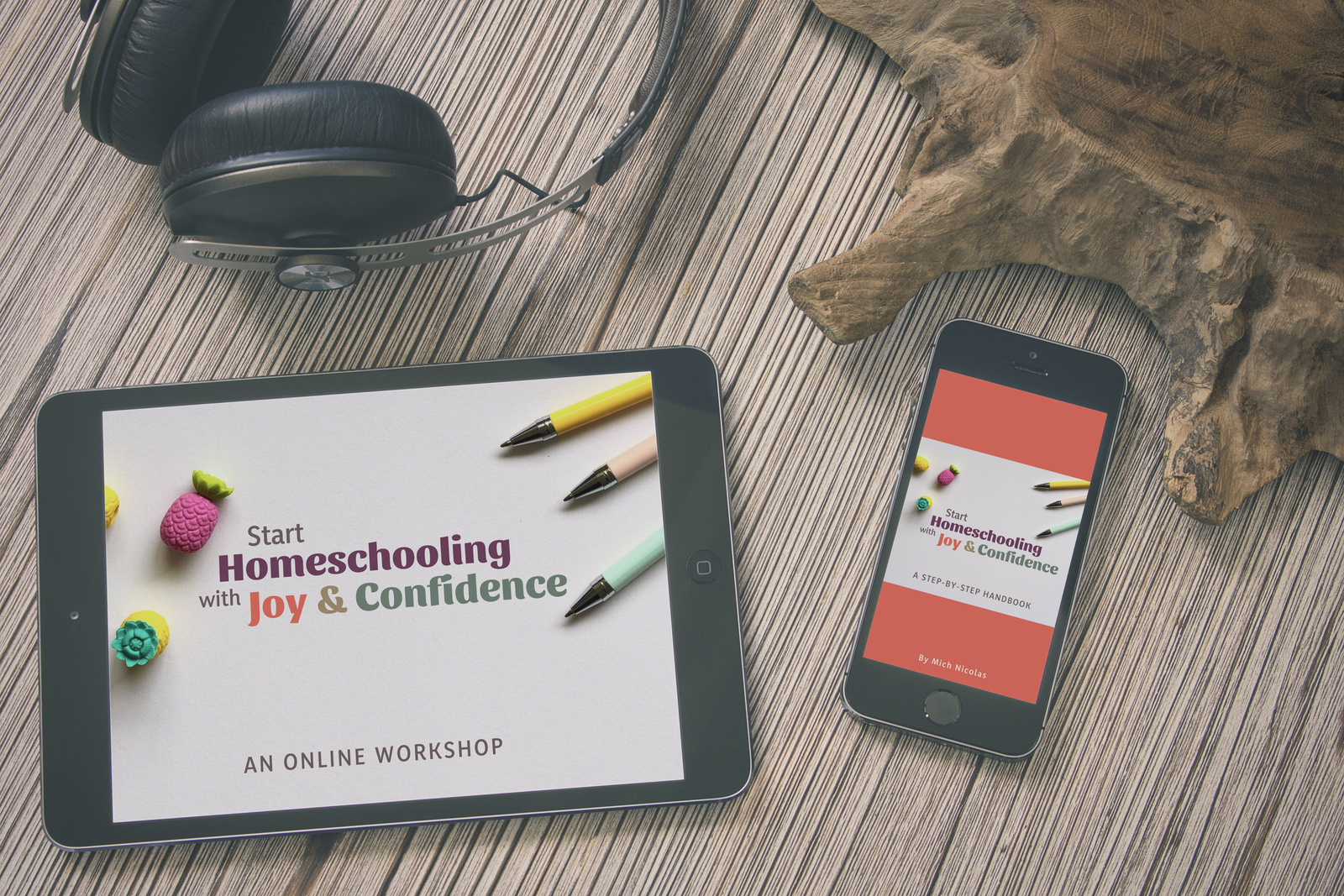 Founding Member's Investment: Php 2,000
EXTENDED! Deadline of Payment is now on November 14, 2018 >> 11:59 PM (Philippine Time)
Mich Nicolas is a wife and homeschooling mom. Her family lives a commuter lifestyle of traveling back and forth, from big city to province. A writer, editor, and creative consultant, she now also takes the role of homeschool coach. She has been counseling women in a faith-based setting for over two decades. She likes fun socks, strong coffee, and making stuffed toys "come to life." 🙂