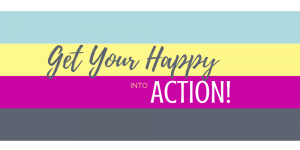 Blessed New Year!
It's a new year, a fresh start, a clean slate. There are blank pages waiting to be filled. Ah yes, we can begin again.
I'm truly grateful that the new year brings new blessings and new opportunities. I mean, who doesn't like something new?! And the great thing about it is God Himself proclaims:
"See, I am doing a new thing!" (Isaiah 43:19, NABRE)
This is a wonderful season to be in. So to help us become more intentional in having a fresh start, here are three ways to welcome the new in 2018:
Start with God's Word.
Let me share with you a practice that we've been doing in our community every year. Many of us do this minutes after the clock strikes midnight of the New Year. Others do it later in the day of January 1, or any time in January.
So what we do is we pray for God's message for us for the year. With Bible in hand, we say a prayer for God to lead us to the page or pages where His message is for us, to lead our eyes and finger as we open the Bible. As we sense God's peace in our hearts, we prayerfully open the Bible and point to a page. Then we begin to read the words. And if something strikes us or touches us, we stop and reflect.
Sometimes, the message is an instruction to be obeyed. Other times, it is a promise to claim and receive. At still other times, it might even be a warning of what to avoid. But always it is an encouragement and assurance that God actually cares to communicate with us.
More often than not, understanding it will not come in one go; it is a process of discovering more and more the treasures that are in that particular passage. Go ahead and try it out!
Declutter.
To declutter means to "remove things you do not need in a place, in order to make it more pleasant and more useful" (Cambridge Dictionary). It's to remove what's unnecessary or doesn't serve a purpose anymore.
I propose we declutter, not just externally, but also internally.
Externally has to do with physical spaces. So I started decluttering our room some days ago, and it felt so good! Such happiness to finally see more areas without stuff! It's like there was more room to breathe. I am not done decluttering, but just starting and seeing some progress already helps in welcoming new possibilities!
As for internal decluttering, this has to do with letting go of such things as mental baggage and negative attitudes. I remember sometime ago when I was tempted to replay some negative memories in my mind, I would tell myself, "Don't go there." Because I knew that if I did, it would only stir up the same negative feelings, and possibly I could begin to think bad of others. So that's never a good idea. Best is to cut off all that negative weight to have a fresh start.
When we declutter, a sense of peace and order ensue. There is a calm. And a clearer mind. And the decluttering also makes room for greater fruitfulness, as it says in John 15:2 (NLT):
"He cuts off every branch of mine that doesn't produce fruit, and he prunes the branches that do bear fruit so they will produce even more."
Set goals.
A goal is something that you aim for. It is your target. It is your destination. An interesting definition from the Merriam Webster Dictionary says that a goal is "the end toward which effort is directed."
Ergo, a goal gives us direction, so that we don't allow life to "just happen." Consequently, goals help us become intentional. Of course, it also implies that effort has to be exerted. And that's how goals position us for growth. The painstaking process of going from point A to point B is a victory. Each little step forward is a win in itself.
So go ahead and welcome all things new, and position yourself for an exciting year!
You might also want to watch the replay of a short video I did entitled, "Designed for newness — some thoughts on Isaiah 43:19, "See, I am doing a new thing!" Click here to watch it.
———-
If you're a busy mom who needs positive support in your life when it comes to achieving your goals, then read on…
Many people start the new year with "New Year's Resolutions," and it's all good. It shows that people want to live better lives. Unfortunately, many are not able to follow through. After a few weeks, they either give up or forget about their resolutions altogether.
I know for us busy moms, we, too, like a fresh start. We might already have our goals in place, or maybe we're still in the process of formulating them. But I'm sure we'd all want some support to help us follow through on these resolutions and goals.
Which is why I'd like to help you at the start of this year to help you gain momentum so you can follow through, and not just set goals, but to actually achieve them.
So I'm opening a few spots for my 1-on-1 Coaching Program called —
GET YOUR HAPPY into ACTION!: Gain momentum to achieve your goals in 2018
Description
Get Your Happy into Action! is a 4-week 1:1 coaching program for moms who need support in following through on their goals. The aim is not just to set goals, but to position oneself to actually achieve them.
This 1-on-1 coaching program will help you:
Identify and address the obstacles in achieving your goals
Reduce overwhelm by gaining clarity in knowing what to do next
Focus and take action on your most important goals
Gain momentum (win after win) so you become unstoppable in achieving your goals for the rest of the year
In this program, you will receive
4 one-hour coaching calls with me (once a week)
Email accessibility during the 4 weeks
Worksheets (with guide questions)
Power Verses (depending on your goals or circumstances)
Investment
Option 1: One-time payment of P5,000
Option 2: Two payments of P2,500 (one before the first session; another before the third session)
So if you'd like to be one of those who get personalized support from me with regard to taking action on your most important goals at the start of this year, then I invite you to sign up for this program. The investment in yourself will truly be worth it. And I would love to serve you and help you on your journey.
If you're ready to take up your "mission challenge" to finally believe what's possible and take action towards the goals God has put in your heart at the start of this year, then click here to avail of the one-time payment.
If you'd rather do the 2-payment option, then email me at hello@citygirlcountryhome.com so I can give you further details on the payment process. Feel free to email me if you have any questions or concerns as well.
I look forward to working with you and helping you gain momentum towards achieving your goals!
To new and exciting things this 2018!
Mich Nicolas 🙂